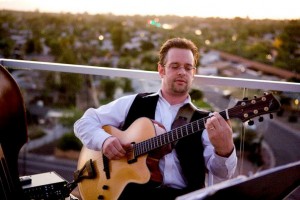 Jeff Lauffer is a professional guitarist and private instructor based in Scottsdale, Arizona.  He plays all styles of music but specializes in Jazz, Pop, Rock, Bossa Nova, Finger-style, classical and Worship music.
Jeff was Born in Rochester, NY in 1971.  He began playing the guitar early on and was around lots of music as a child.  His mother is also performing guitarist and served as director of the worship music at Chorpus Christi Catholic Church in Albany, NY for many years.
In 1992 Jeff attended Schenectady County Community College where he studied Classical and Jazz music education.  It is here that he first developed his deep love for Jazz.  In 97′ Jeff moved to Phoenix, AZ to study Jazz formally at ASU with Chuck Marohnic.  In 98′ he was awarded the prestigious full tuition Jazz Bird Scholarship. He remained on the presidents list during his entire stay at ASU.   He completed his studies in 2005 and graduated Summa Cum Laude with both a BA in Both Music and Italian.
Currently Jeff makes his living as a freelance guitarist and private instructor teaching and performing all styles of music.  He has performed all over the South West with countless groups and musicians including: Subterranean Jazz, Jeff Jones and Mosaic, and his current project The Help.  Jeff has also served as the lead guitarist for the top notch worship group at Carefree Community Church since 2007.
For more info or to contact Jeff please visit his personal website:  Scottsdale Guitar Lessons
For music entertainment and booking info: Phoenix Jazz Groups